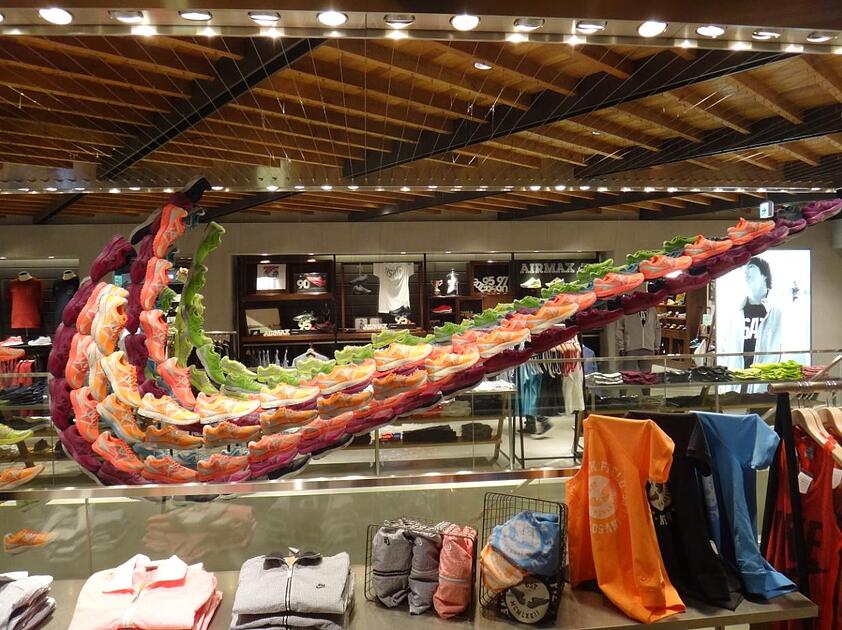 Today, Nike announced several major strategic changes within its executive management team that are designed to accomplish a few very specific core company goals. Nike is highly revered within the apparel industry for its constant innovation from product development to supply chain management and direct-to-consumer marketing.
As one of the world's most popular and profitable consumer brands, Nike's reputation for innovation, efficiency, and creativity in every aspect of its business is well-deserved. They've earned this reputation by constantly re-evaluaing their strategic position in the marketplace and not being afraid to make big changes to continue to excel.
Today, Nike announced that their new Brand President beginning in 2014 will be Trevor Edwards, current EVP of Brand and Category Management. Edwards is set to replace Charlie Denson, Brand President since 2006 and 34-year Nike veteran in this coming January.
This announcement comes in conjunction with several key changes in its executive management team as part of their long-term organizational strategy to align the business with driving consistent growth in all categories.
Mark Parker, Nike, Inc.'s President and CEO commented, "We have a thoughtful succession strategy in place and have built a highly experienced, consumer-focused executive management team with the expertise, acumen, and brand knowledge required to continue to build sustainable growth for Nike, Inc. for the long-term."
Eric Sprunk, currently the EVP of Merchandising and Product, will become Chief Operating Officer leading all manufacturing, sourcing, IT, and procurement for the company. Sprunk will be overseeing the company's efforts to drive constant innovation in the supply chain.
Jeanne Jackson, currently the President of Direct-to Consumer, will become President of Product and Merchandising, leading Nike's product engines and merchandising. Jackson will oversee implementing the strategy for creating all footwear, apparel, and equipment for the company and leading the merchandising of product to the global marketplace.
Thomas Clarke, currently the President of New Business Development, will become President of Innovation. Clarke will lead Nike's Advanced Product Innovation Teams and the Sustainable Business & Innovation (SB&I) team.
Mark Parker will remain Nike Inc.'s President and CEO and will oversee the transition & implementation of company's succession plan next year.
1. Constantly Evaluate How to Best Achieve Your Goals
Dedicate time to constantly thinking critically about how effectively your current processes, people, and product offerings are achieving your goals. If something isn't working, figure out how to make it work. If something is working, look for opportunities to make it work better.
2. Create a Culture of Change
If constant evolution is expected within your company, people will be continually looking for new ways to improve the business. Reverse the norm and make change comfortable. Create the expectation that change comes regularly and encourage everyone in the company to contribute to the process of defining that change in some way. This will create an empowered workforce.
3. Never Stop Innovating & Improving
Nike has dedicated themselves to constantly evolving their business processes to more effectively drive growth, improve efficiency, reduce costs, and create innovative products & content.
4. Eliminate Complacency
Complacency can be comfortable. By removing complacency and creating a culture of continual positive change, management and employees alike become more innovative.
5. Invest in Your #1 Resource
People. As is the case today, Nike typically hires their executive management team from within the company, and they do this because they invest a significant amount of time and resources into their emplyoyees. Creating an innovative and dedicated workforce will ensure continuity & growth for your company beyond just the time you are there.
---
With these changes, Nike is showing the world that its not done innovating and the company's certainly not afraid to make the changes they deem necessary to continue being the best. The company leadership shares a dedication to excellence and constant improvement.
The changes reflect Nike's focus on the consumer by accelerating innovation, emphasizing design, creating product & merchandising excellence, and focusing significantly on efficient supply chain and manufacturing capabilities.
With Nike's supply chain in particular, they've gone to great lengths to make their business processes more efficient and offer consumers innovative new products and features. For example, their Nike ID platform allows consumers to make customized Nike shoes, gear, and apparel online with no minimum order quantity for a small premium above typical retail prices for non-customized goods.
Do you think Nike will remain a global apparel superpower?