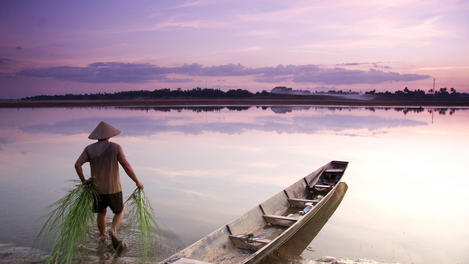 Laos announced that they've set a goal to double clothing and apparel exports by 2015, but they'll need to drastically grow their workforce to support rising demand.
With growing demand and more global apparel brands seeking alternative sourcing options to traditional garment manufacturers the likes of China, there's a huge opportunity for Laos and neighboring countries to boost economic development & job creation.
Laos, currently one of the least developed nations in Southeast Asia is set to experience an estimated 8%+ GDP growth in 2013-14 with several sectors including hydroelectric power, mining, and clothing exports contributing to this growth. The government estimates that an additional 500,000 skilled laborers will be needed by 2015 to meet increasing demand for clothing exports. A stifling number for a country with a population of less than 7 million people.
The Labour and Social Welfare Ministry however, states that Laos will only be able to supply 55,000 jobs by 2015, just 10% of the amount of jobs needed to meet clothing export projections. This is in a large part due to the very high number of Laotians leaving their hometowns to seek better employment in other nations. Last year, more than 50,000 Laotians immigrated to neighboring Thailand seeking higher paid employment in construction or factories. Finding and retaining workers is difficult in Laos, especially in sectors requiring skilled labor.
An Opportunity Too Good to Miss
Laos will need to both stem the flow of citizens leaving the country and begin bringing in significant numbers of foreign workers to keep up with demand for clothing exports. Where they'll get those workers remains a question to be answered.
The fact remains that they cannotafford to miss this opportunity to seize a larger stake in the apparel manufacturing industry. The creation of 500,000 skilled jobs would not only create an economic boom for this small country, but would put them on the map for global apparel brands seeking alternative sourcing strategies.
The Labour and Social Welfare Ministry has begun encouraging Laotians working in Thailand to return home and become part of the development of their home communities, which is now in turn creating workforce shortages in Thialand. The Thai economy has grown significantly to accomodate the influx of Laotian immigrants, and they now face the chance that much of that workforce will move back across the border to Laos.
In light of the dramatic increasing demand for labor in Laos, it makes apparent the need for foreign skilled labor. Where those workers come from remains to be unseen, but it needs to happen soon if the country expects to grow as expected.