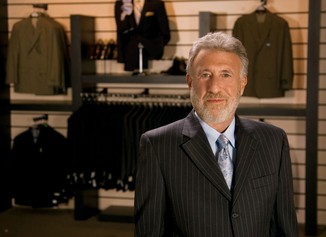 Men's Warehouse announced Founder & Chairman Zimmer's departure today giving no public statement as to why he's been abruptly let go.
George Zimmer founded Men's Warehouse 40 years ago in Houston, TX with a single location. Fast forward to today, they now operate 1,239 stores under the Men's Wearhouse, Moores, K&G and Tux brands.
Starting with one store and building it into a nationwide brand with a household name is no easy feat. Zimmer revolutionized an industry and made men's dress clothes more accessible to the middle class during his time with Men's Warehouse.
While serving as CEO from 1991 to 2011 and Chairman since 2011, it comes as a shock that Zimmer was terminated from the company during such a profitable time in the company's history. Men's Wearhouse reported a 25% gain in first-quarter earnings on a 5% sales increase.
The news surfaced this morning just before the company postponed its annual shareholder's meeting and company officials declined to comment, only stating that Zimmer's departure would not affect operations.
In a statement made to CNBC, Zimmer said he had expressed concerns about the direction of the company to the board of directors and that they had "chosen to silence my concerns through termination as an executive officer."
Why he was Fired
Analyst Richard Jaffe of Stifel & Co., says Zimmer's transition from hands-on manager to executive chairman in 2011 may have hastened his ouster.
"We believe that despite Zimmer's planned transition to a smaller role at the company, he had difficulty letting go of the reins and the leadership of the business,'' Jaffe said.
Many entrepreneurs find it difficult to let go of control over their companies once the time comes and have trouble allowing others to continue its growth. Once a different group of managers have joined the company, there often begins a divergence over time from the goals of the founders as the industry changes and other factors begin to play a role in the business. It's difficult to say who is right in these scenarios, but the fact remains that Men's Warehouse will live on as George Zimmer's legacy.
As for all apparel brands and global retailers, the supply chain is essential to building success.