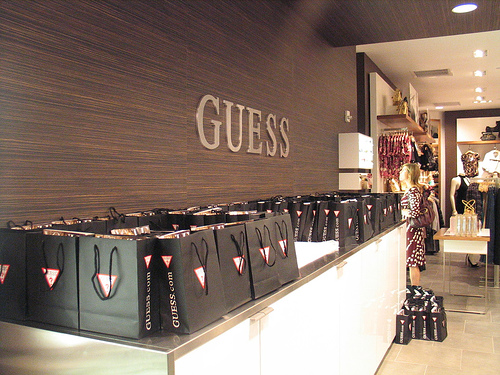 Since Guess, Inc. was founded by the Marciano brothers in the 1981 Los Angeles apparel scene, the company has survived many tumultuous industry shifts and internal changes. Here's how they've built such a powerful brand.
Guess has been a namesake brand in the apparel industry for over three decades. The company's gone through countless changes in fashion trends, highly publicized internal turmoil, and economic downturns that saw consumer spending hit all-time lows.
From day one, Guess was a rockstar in the apparel industry. Brothers Georges, Paul, Maurice, and Armand Marciano all came from an upbringing of helping with their family clothing company in the French Riviera before starting Guess in Los Angeles. They brought an uncanny ability for fusing together California and French design themes within their clothing. From the start, their clothes caught on in a big way.
Billed as one of the first companies to create designer jeans, they started out with a reputation for innovation, edgy style, pushing the limits on fashion, and most of all provocative advertising. Guess began advertising in 1982 and soon introduced the Company's iconic black & white ads that have won numerous Clio Awards. Models for Guess advertisements over the years have included numerous supermodels, Anna Nicole Smith, Kate Upton, Paris Hilton, and many more.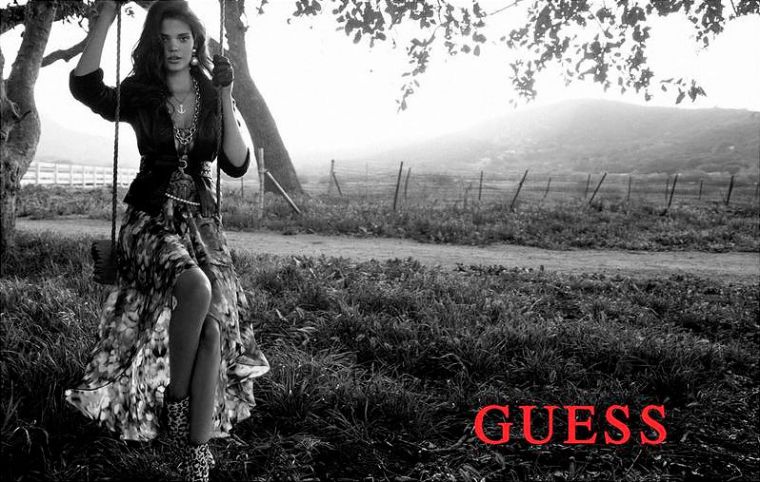 From a financial perspective, the company has had many ups & downs over the years due to other brands rising to popularity, internal turmoil within the Company, and experimentation with several different product lines & offerings. Nonetheless, Guess remains to this day a timeless and powerful brand name in the industry. Guess revenues have steadily risen in the 2000's and remain near company highs of over $2.6 billion for FY 2013.
How Guess Has Thrived in the Apparel Industry for Over 30 Years
1. Continued Innovation
Guess has survived many changing trends and industry phases by staying relevant to their consumer base. From completely changing the style of their clothing, to creating increasingly sexier advertisements, Guess took big risks and stood out from the crowd. In the 1990's, Guess opened a division called Guess Home and offered upscale bedding collections, amongst other items. While they discontinued their home line after a few years, the Company is credited for being the first to package their home goods in packaging made from the actual product's material to give consumers a better representation of what they're purchasing.
2. Edgy Advertising
If you had to sum up Guess in one word, that word would be 'Sexy'. The Marciano brothers did a phenomenal job of developing their brand to appeal very well to the 20-30 something demographic with their use of supermodels & well-known actresses in the Company's advertising campaigns. Throughout the Company's existence, they have always succeeded in generating buzz around products and marketing campaigns alike. By picking very definitively youthful marketing style & strategy, Guess has continued to appeal to a wide demographic of customers.
3. Reinventing Themselves
During the 1980's, Guess was widely regarded as the most popular brand of jeans. The Company which started with just women's denim quickly jumped into offering men's, kids, and accessories lines. Guess has frequently overhauled the design of their retail locations to more adequately appeal to their customers, and they've done this with great success over the years. The Company has expanded to offering a variety of different lines including watches, perfumes, and the well-known G by Guess line with more competitively priced denim geared towards the 16-23 year old demographic with products in the $40-50 range.
4. Staying Youthful
Guess went through a period in the late 1990's when continued sweatshop allegations tainted the company's image and activist groups ran negative campaigns against the brand. They were able to settle the issues and successfully put their past behind them. As the Company's marketing and advertising campaigns became sexier in the 2000's, Guess's sales began to ratchet up at an accelerating rate. In 2005, Guess began capturing many new consumers in their teens and 20's who were largely unaware of Guess's earlier history. The Company's ad campaigns continue to be directly targeted towards this younger demographic where they've found they're able to attain customers at a young age and develop them through their brand's offerings over time.
How do you think Guess will perform as the brand continues through it's 3rd decade in business?
(Image Source: Urban Muses)